The Pretty Things Peepshow is based in New York City and has been touring since January 2009. The show is a sexy mix of sideshow, burlesque and variety entertainment called BROADVILLE
Show History Our Acts Photos Videos
Our Current Cast:
(click on any of the images to find out more about our performers)
Our guest star for The Gangsters Ball in Australia will be: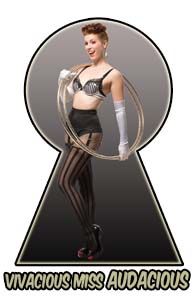 We are working with Brown Paper Tickets to help raise money for the victums and families of the Cafe Racer Massacre. Click this link to find out how you can help.
Past Performers and Guest Stars include:
Insectavora, Harvest Moon, Magic Brian, Aurora Natrix, Bonnie Vovage, Kelly Jo (Radiant Hoops), Trixie Minx, Raquel Reid, Trixie Little and the Evil Hate Monkey, Topher Bousquet, Gin Minsky, Christopher Lane, Augie Fash, The World Famous Penguin Boy, Freakshow Foley, Peepshow Cabaret, Stoya, The Memphis Belles, Lulu Lollipop, Ally Ooops, Miss Meana, Dottie Diamond, Kierra Darshell, Colby Roberts, Sylver Fire, Miss Meana, Bella Sin, lollipop Shop Burlesque
Bands we've Performed with
Eddy Price and the Empires, Sasquatch and The Sickabillys, The Two Man Gentelman Band, King Sickabilly One Man Band, The Koffin Kats, Psychocharger, Hip Cat Trio, Dead Kat Zombies, The Sandworms, The Sex Slaves, Ye Olde Royal Shithouse Players
Ozzfest 2010: Devil Driver, Rob Halford, Motley Crue and Ozzy Osbourne and more!
LIKE us on Facebook